Falmouth Natural Health Practice Welcomes You

Please click here to see our new COVID 19 Protocol.
Jillian and Gordon welcome you to Falmouth Natural Health Practice. We are an independent family run, friendly, caring practice that has been established in Falmouth for 20 years.  We offer a wide range of complementary therapies as a natural method of healing that can have effects on your Well Being both physically, and emotionally.
Do you have health problems? Are you in pain, feeling stressed and ready to make vital changes concerning your health?, Or are you simply wanting to incorporate a therapy into your health regime to prevent problems occurring?
Please explore our website further to see how we can help. You are very welcome to phone us, or if you prefer come in for a face to face chat to discuss your unique needs.
All of our practitioners are fully qualified, insured, dedicated, knowledgeable and trained to a high standard.
We are always looking for new therapists, so if you are a therapist looking for a room to practice from please call or email to find out more, or click here
Therapies we Offer
Acupressure
Counselling
Craniosacral Therapy
Herbal Medicine
Homeopathy
Hypnotherapy
Hypno Birthing
Massage
Neuro Linguistic Programming
Psychotherapy
Reiki
Reiki Kekko Massage
Shiatsu
Time Line Therapy
TM&Meditation
Some of the problems people have sought help for
Back/Sciatica
Neck/Shoulder pain
Migraines/Headaches
Stress/Anxiety
Phobias/Addictions
ME/Chronic Fatigue
Fibromyalgia
IBS/Digestive Problems
Dizziness/Tinnitus
Menopausal Problems
Allergies
Sports Injuries
Baby/Children's problems:
Colic
Sleeping problems
Behavioural problems
Feeding problems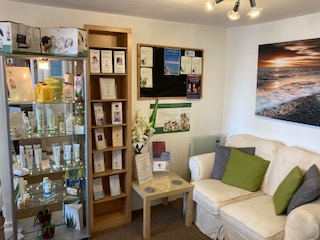 We welcome all ages to our practice from new born to later years. We are child friendly and also registered with Dementia Friendly Falmouth.
We continue with our mission, empowering and inspiring  the people of Falmouth and Cornwall, by enabling them to take control of their own health issues.
Our team of  therapists provide the utmost care and respect for their clients by their holistic approach to health care. Working together as a team, cross referring where necessary to provide the appropriate treatment for their clients needs
Over the years the practice has successfully treated many hundreds of people from the Falmouth area. The many therapies available have helped to relieve aches and pains along with stresses and strains of coping with modern life, improving the health and well being of many people
Our convenient central location in Church Street,(next to the Kings Pub), provides an oasis of calm in amongst Falmouth's busy shops and businesses.
Our Therapies are not a replacement for appropriate medical care and if there are any concerns we would recommend consulting your medical practitioner.